Posts
The Best Damascus Chef Knife for Home and Pro Cooks
by Tamkota Cutlery on Oct 15, 2021
What is a Damascus knife?
Damascus is not a new type of steel; it is a process of forging several steels together to obtain a high-performance material. High-carbon steel has good cutting performance, but is prone to rusting. Stainless steel resists rust, but does not perform as well as high carbon steel. So, people wrap stainless steel around high carbon steel so that they can have a sharp blade and still resist rust.
Damascus knives are knives made from Damascus steel. It is the technique used to make the steel that marks them as 'Damascus' rather than any other part of the knife design. Damascus knives can be identified by the wavy, mottled pattern that runs through the blade.
And today's Damascus steel have some types:
1. Multi-layer steel cladding on high carbon stainless steel. Brands like Shun, Tamkota, Dalstrong, and Miyabi, etc.These knives use high-end steel like SG-2, VG-10, and AUS-10, etc. The hardness of the blades can reach 58-62 HRC. It's a high-performance knife, and easy to maintain the blade.
2. Pakistani Damascus (Handmade in Pakistan), Using a traditional kitchen knife making process, the surface of the knife is acid etching to give a beautiful high contrast damascene steel pattern. This one is easy to get rusted so customers need to oil the knives occasionally.
The performance is depending on the steel they used.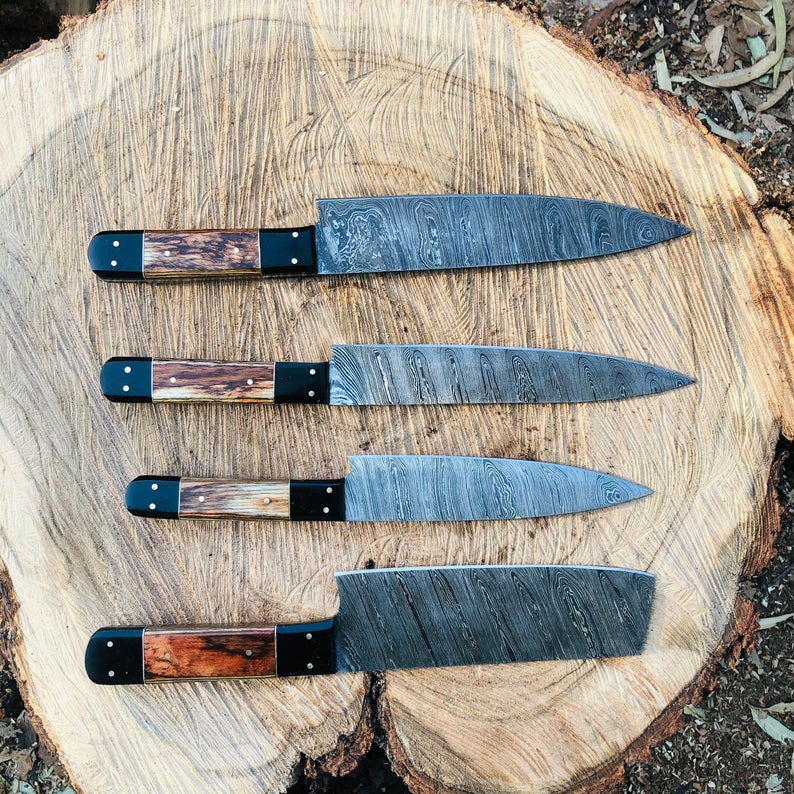 3. Fake Damascus
The blades are made of general steel (In general it's cheap steel) then laser engraving Damascus pattern on it.
Poor performance. Not recommend buying it.

Are Damascus knives good?
A well-made Damascus blade will retain its sharpness for longer than most production quality blades, but if the goal is to use the best performing blade steel, you may find it elsewhere. ... True 'name brand' Damascus steel is of the highest quality. Knives made from these steels make for fantastic knives.
Why is Damascus steel so expensive?
As for making the Damascus, it is a time and labor-intensive process, which is why Damascus blades typically cost more. In terms of performance or edge holding, there are indeed other steels that will hold an edge longer, but anyone that knows knives knows that it is hard to beat carbon steel for getting a keen edge.
Please note that "Damascus steel" currently used for a high-end tamkota knife is laminate material, which is forged with multi-layered different steels.
Its surface pattern is produced by overlapping steel and folding back many times.
Tamkota Cutlery
We spend a lot of time on knife designing, in order to design a good chef's knife. Our blacksmiths use the best craftsmanship, using high-quality forged steel to create a sharp and durable blade for our customers.